There is a incredibly great man, Will Gadd, who firstly climbed the frozen Niagara falls. He is famous climber in the world, and has always made new record to succeed in climbing difficult locations. Gadd won the Ouray Ice Climbing Fest just before that, and also just before that he was climbing slivers of melting ice at 19,000 feet on Kilimanjaro. Ascending spray ices (It's not rocks at all) needs to be trained very well like him, so don't try it.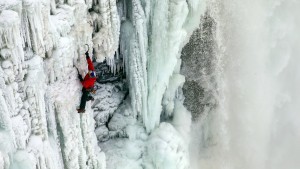 How about "safe and fun" ice climbing? While exploring beautiful sites, climbing ice is so much fun and refreshing. Only an hour from Toronto, you can touch the ice and climb it! $160 costs per person, and in March, there will be three times you can join in on 15th 18th  and 22nd. In this cite, you can see about dog sliding and snowshoeing and some other kinds of snow sport. These activities can experience only for the winter, so definitely check it.
http://adventureseekertours.com/ice_climbing.htm
In EC, there are also plenty of information about snow sports, so check it while  you learn English in Toronto. 
Comments
comments