Cindy Feng, from Venezuela, has been studying in Upper-Intermidiate class in EC for one month. Cindy shared a lot of things about her life in Toronto and how she felt about ESL classes in Toronto.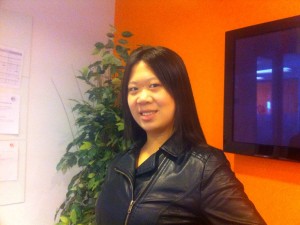 -Why did you choose EC Toronto?
Canada is a big country, and Toronto is a very organized city. Regarding to EC, I've chosen a school with my Venezuelan agency, and also I have a friend who has been in Toronto before, not in EC though, and he recommended me EC.
-What did you like most about EC teachers?
They allow students to interact with each other between different country's people. During the class, I learn not only English, I also learn about different cultures like Indian or Japanese who live far from my country. I didn't know anything about them, so it's very surprising to me.
-Which experience you will never forget at EC?
I've been here just for a month, but I think these experiences like every class and break time are very precious time. And the fact that I've talked with my friends is very special and unforgettable for me. Everyday I learn something new, which is like an adventure, and I'm really enjoying it. Especially, for new students, it would be amazing and totally different from things they've already known in their city. Compared to my own life, it's like…"wow!" I'll never forget it!
-Would you recommend EC to a friend?
Yes, EC has good teachers, and good environment, and the building is lovely. Also it's close to the subway station and very convenient.
She is very energetic and cheerful, she must be enjoying learning English in Toronto!
Thank you so much, Cindy!
Comments
comments