As you all may know, seeing cherry blossoms in high park is one of the most popular things to do in spring. The beautiful trees, given by the Japanese ambassador in Canada, to the city in 2000, are attracting many visitors. But the time we can enjoy full of their beauty is quite short, so you need to keep checking on the web or local news. Here is an interesting site which tracks a peak of sakura and updating pictures of buds blooming which taken per week so that you can see the swelling. A peak time in 2015 is predicted on May 14th currently.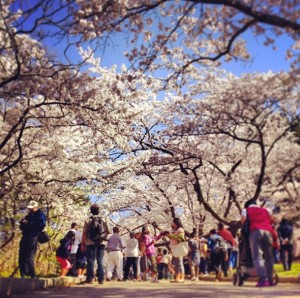 Cherry blossom, called Sakura in Japan, plays a role to announce a beginning of spring. Japan chooses sakura as a national flower like most of the countries have each symbolized flower, such as a maple leaf in Canada or a rose in America. That's because Japanese people love this flower whose petals easily fall and express Japanese cultural style that they think a present time important. Hanami, also Japanese traditional culture, is that people gather under trees and have a party to celebrate a coming of spring seeing sakura. It is becoming popular gradually in Toronto too.
     Now that every spring people go to high park to "hanami" and it is extremely crowded. For example, there is one problem because of that, which people make a long line to go to public washrooms. When you decide to see cherry blossom, it'll be better to reach there in early time to avoid these annoying things.
Let's go to high park after school! From Yonge-bloor station, take Eastbound train takes about 20 mins. (Map)
Enjoying spring is as important as learning English in Toronto.
Comments
comments