Yuri Ogawa, from Japan, has studied at EC for about three months. Here is her testimonial of EC's life.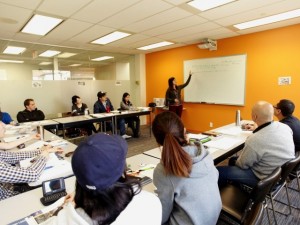 -Write a few things about your experience at EC.
Classes… I have learnt all elements of English, listening, reading, writing, and speaking so that I could improve my skills efficiently. Sometimes it was seemed that students from the same country gathered each other, so the point will be fixed.
Teachers… Every teacher and their class is very unique and elaborated so that I could enjoy it very much. They are all very friendly and distinctive.
Office… It was great that they always welcomed brightly and treated with a problem no matter how small it was.
School… The clean and happy atmosphere made me attend to EC every day. My classmates are pretty open-minded and interesting people, I was able to make friends with many people from various countries.
Courses… Vocabulary or topics were quite different depending on the course, which I didn't feel bored and I got a wide range of vocabulary.
Thank you, Yuri! Yuri is just 16 years old, but she was able to communicate with a lot of people from different countries. Even if you're young, don't worry about English and a life in Toronto. There are a lot of your friends learning English in EC Toronto!
Comments
comments