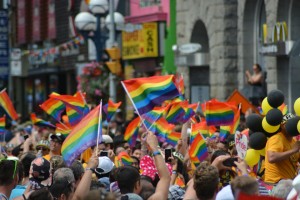 June 26 to July 3 is Pride Week in Toronto.  This week we celebrate and honour the wonderful diversity in our great city.  There are a number of exciting events happening this week.  Check out our list Pride events below:
Cabana Pool Party:
Cabana Pool Bar
Wednesday June 29th from 6:00pm – 11:00pm
Check out the slickets poolside venue this side of South Beach and hang out with a cast of great friends and beautiful strangers.
The party will be hosted by fashion Queen, Naomi Smalls.
You must be 19+ to attend this event.
Treehouse Party:
Ryerson University
43 Gerrard Street East
Sunday July 3, 2016 at 1:00pm, Monday July 4, 2016 at 1:00am
The treehouse party features a great lineup of the best international DJs, including Sexshooters, Yinon Yahel, and Alain Jackinsky.
Proceeds from the event go directly to support the 519 Community centre.
Pride Parade:
Sunday July 3, 2016 a 2pm
Chuch St. and Bloor St
Toronto's gay pride parade is entering it's 36 year and it gets bigger and better every year.  With colourful floats and amazing entertainment, the gay pride parade won't dissapoint!
Check out EC Toronto for Adult English Courses.
Comments
comments