If you follow baseball, you'll know that the Toronto Blue Jays are on fire this season!  Torontonians are certainly very proud of our beloved Blue Jays.  You might notice people walking around with hats and jerseys to show their support of the team.  Here at EC Toronto, you might notice your teachers, staff, and fellow students showing their support for the Jays.  In honor of the Jays' victory streak, we've included some trivia questions to see how much you know about baseball.  See how many of the questions below you can answer.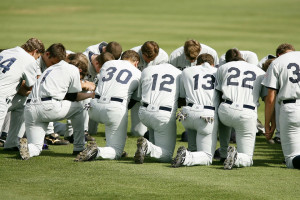 1. What is the oldest stadium in MLB?
a. Wrigley Field
b. Fenway Park
c. Yankee Stadium
d. Dodger Stadium
2. Who was the first President of the United States to watch a Major League baseball game from the dugout?
a. Bill Clinton
b. Ronald Reagan
c. Richard Nixon
d. John F. Kennedy
3. The Toronto Blue Jays won the World Series in both 1992 and 1993
a. True
b. False
4. Which franchise become the New York Yankees?
a. Baltimore Orioles
b. Washington Senators
c. Boston Braves
d. Philadelphia Athletics
5. The legendary Babe Ruth played for which of the following teams:
a. New York Yankees
b. Boston Red Sox
c. Atlanta Braves
d. All of the above
6. Whose number was the first even retired by an MLB team?
a. Babe Ruth
b. Jackie Robinson
c. Lou Gehrig
d. Mickey Mantle
7. Which team has the most overall losses in MLB history?
a. Baltimore Orioles
b. Atlanta Braves
c. Philadelphia Phillies
d. New York Mets
8. Name the only player to hit a major league home run and score an NFL touchdown in the same week.
a. Rex Johnston
b. Deion Sanders
c. Chad Hutchinson
d. Bo Jackson
9. Who won the World Series in 2015?
a. Boston Red Sox
b. Atlanta Braves
c. Toronto Blue Jays
d. Kansas City Royals
10. Who was the Blue Jays MVP in 1993?
a. Roberto Alomar
b. Paul Molitor
c. Joe Carter
d. Pat Hentgen
For Toronto Homestay English Courses check out EC Toronto.
Comments
comments