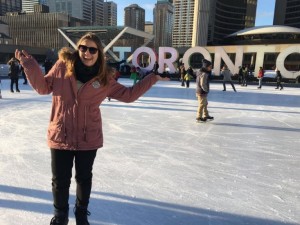 Hi!
My name is Isabel, I'm 18 years old and I'm from Colombia. I enjoy watching movies, listening to music and talking with everyone.
I wanted to study English to improve my knowledge, to develop more skills, to communicate and to solve the problems or situations I might face in the near future.
I chose Toronto because it provides an amazing opportunity to learn about different cultures, and also because it offers different kinds of entertainment and culturally-enriching experiences. In the 2 months I've been here, I have had the opportunity to blend into Canadian culture and learn from Torontonians' lifestyle.
EC Toronto provides different approaches to learn English, such as specific classes on topics of your own interest, each one with a friendly environment. I love being an ambassador because I can help people with my experiences in the city, it's a good opportunity to practice what I learn in class in a relaxing way, and I can also get to know different nationalities and even learn some words in other languages.
I would be glad to help you with any information you need!
Toronto Homestay English courses
Comments
comments