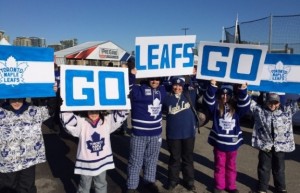 The Toronto Maple Leafs are making history. Our amazing team is one of sixteen teams that qualified for the National Hockey League's (NHL) 2017 Playoffs!
We want to encourage our students to wear either any Leaf paraphernalia or something blue and white; to show our support and appreciation for their achievement, to thank the players and staff for having done the best so far, and let them know that everyone has their backs.
Following Mayor John Tory's lead: April 13, 2017 is "Blue and White Day" in the city of Toronto.
Comments
comments