Toronto is giving you an opportunity you can't reject.
Bubble Soccer is the #1 entertainment sport in The Six. Bumping and laughter is what you can expect from this unusual, but fun experience.
The rules are not very different from soccer game. Using an inflatable zorb like bubble, you can smash into other players and find yourself literally rolling away with the ball wrapped around you, bouncing around, laughing and making others laugh.
You can play it anywhere on a smooth grassy surface or in some areas that are provided by the ''Bubble Soccer company''.
Remember: the more, the merrier.?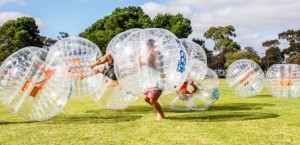 Comments
comments