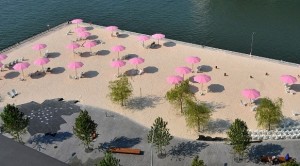 Summer is coming and with it plenty of ideas, such as going to the beach for a sunbathing session and to have a nice time with your friends.
Here we have a list of the best beaches you could go:
Centre Island Beach: a beautiful view of the city and bike rentals, is what you can expect from this beach.
Cherry beach: this is one of the most famous beaches in Toronto; with green areas, rocky shores and a pretty good spot to try water sports.
Bluffer's Beach: this sandy beach is right at the foot of the Scarborough Bluffs and offers amazing views.
Sugar Beach: a popular and nice spot to soak up the sun. It is famous for its sugar and candy theme.
Sunnyside Beach: this is a popular place for biking and rollerblading along the boardwalk, and for its greenery area.
Woodbine Beaches: known for offering many beach games and a swimming pool at the beach. This is also the best spot for fireworks displays on holidays.
Comments
comments