We would like to share the success stories of our former students Fabio Andres Mora Diaz and Cristian Vladimir Arango Galvis from Colombia while English students in Toronto!
Fabio spent 20 weeks in our 30+ program at EC Toronto. It is the only school exclusively for people 30 years and over who want to share their EC experience with more mature, like-minded students in Toronto. While he was here, he wrote the testimonial below: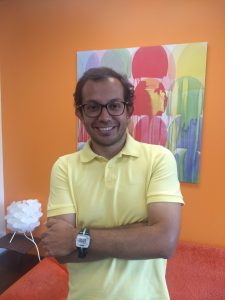 "How I fell in EC? Well, I fell that EC is my home now. I have been studying here for three months. I have made a lot of friends.           Although some of them have returned to their country we keep in touch.
     Definitely, I think that EC with their 30+ program was the best option for me because you learn English and at the same time you       can expand your social network. I like it when I can learn and laugh at the same time.
     Toronto is an amazing city, where you can enjoy the summer. The day is too short to do all the activities that the city offers you. If        I have another chance, I would like to come here again to enjoy the city and study too."
Cristian spent 29 weeks at EC Toronto and was able to reach the Advanced level. During his stay he attend not only our English classes, but also the Pathway course.
The Pathway course is for students who want to study at university or college in Canada but do not have the English level they need. The University Pathway Programme provides you with the skills necessary to reach the required level to enter a Canadian university or college.
With his level now, he is able to choose from one of our many partner universities and colleges and he does not have to take the TOEFL or IELTS exam.

"I was here from April to October and I have levelled up from Pre-Int to Advanced. It was quick, but you must do extra things in order to get the result.
For example, I listened to broadcasts and watched movies in English. I came here with my girlfriend, and I think for international students, company is also very important.
I like EC – common areas, classrooms, library, everything you need is here. And it is not too loud or too quiet – just right."
We wish all the best to our former students and hope to see them again.
Comments
comments