On Saturday April 14th EC Vancouver staff will be participating in three different projects for the Giving Something Back event. Some of our employees chose to support the Canadian Cancer Society through their annual Daffodil Campaign and we would like to tell you a little bit more about this project.
The use of daffodils for fundraising began in 1956 when volunteers handed out daffodils atTorontoarea restaurants as means to spread the message about cancer awareness. At first the daffodils were given to the patrons in order to get the word out about cancer but when some wanted to pay for the flowers or make a donation it was realized that the daffodils could be used as a fundraising tool for the organization.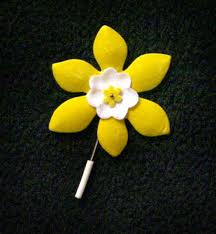 Since then the event has encouraged Canadians to take a moment to reflect upon the thousands of people who are living with cancer and to remember those who lost their fight. So on this important day we should do something special to contribute in some way to fight this disease and let those living with it know they are not alone.
 EC Vancouver staff will be selling daffodils pins at the Vancouver Public Library from 10:00 pm to 2:00 pm, and the profits will be used to support people living with cancer, fund research to outsmart cancer and prevent cancer before it starts.
If you want to get involved, you can come to our front counter on the second floor and talk to us. We have started selling daffodil pins and any contribution is truly welcomed.
Comments
comments