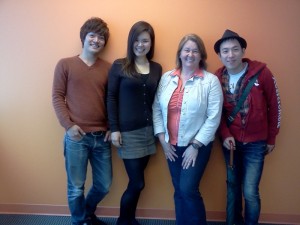 Ayako Uchida (second from the left) is a student from Japan

 who has completed a 4-week English course at EC Vancouver.
What did you do in Japan and why have you decided to study English in Canada?
I was working in a foreign bank and I wanted to change my career.
What do you think about EC Vancouver?
The teachers are excellent. They are well educated and very skillful.  Also, there are only a few Japanese students, which is great because I don't want to speak Japanese.
What do you think about being surrounded by students from different nationalities?
Students who travel abroad to study English have high aims, so this is very encouraging for me. It is also a good opportunity to meet and get to know people who come from all over the world. I've learned many different ways of thinking from them.
All in all we are the same. We have the same purpose. We are away from our countries and we are trying to do our best to understand each other easily, deeply and considerably.
Even though we have different backgrounds, we have consideration for each other and we have good times together. It is a good chance to look at our own country objectively too. I love Japan even more than I used to.
What would you say to an international student who is planning to come to Vancouver?
Vancouver is a very beautiful city. People from Vancouver have a warm heart for students who are learning English. It is definitely a good environment for international students.
Comments
comments