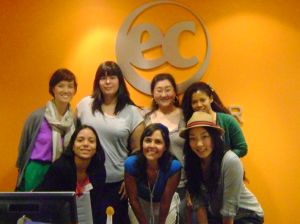 Hey everyone, don't forget that this is a long weekend! That means there is no class on Monday! If you are staying here in Vancouver our staff prepared a list of cool things that you can do to enjoy this beautiful city. Take a look:
Our Accommodation Coordinator, Sawako, says, "There is a Japanese festival (the Powell Street Festival) on August 4th and 5th from 11:30am – 7:00pm at Oppenheimer Park in Vancouver. There will be lots of traditional Japanese foods and entertainment and it's for all ages!"
Sarah, our Academic Year coordinator says, "How about some things out side of the Vancouver core? I would suggest a trip to Fort Langley to learn a little about our history and enjoy the day in the little town. (http://www.fortlangley.com/). Another thing is to visit the Britannia Mine Museum at Britannia Beach on the way to Whistler (http://britanniaminemuseum.ca/) and the third thing I thought might be fun is to spend the day in Steveston, eat fish and chips and visit the Cannery museum. (http://gulfofgeorgiacannery.com/)."
"I would suggest checking out the various Farmers' Markets around the city, buying some food and then going for a picnic in one of our beautiful parks. Bring a Frisbee too! You can check out www.eatlocal.org for locations and times", says Rayna, our Academic Assistant.
Soo, our Korean counsellor says, "Go to Cleveland Dam at Capilano River Regional Park and check out salmon in the river. It's free!!!"
Silvia, our Operations Manager, recommends the Trout Lake Farmers' Market, and then doing some shopping on Commercial Drive.
"This long weekend, how about enjoying the sun at Wreck Beach? It's one of the most beautiful places in Vancouver and perfect for those who like more quiet beaches! Just be aware: some people say it's a clothing optional beach! It's also an awesome opportunity to explore UBC Campus, and Canadian First Nations history at the Anthropology Museum! Have fun!" says Laura, our Reception Administrative Assistant.
Fatima, our Portuguese Counsellor, suggests hiking the Grouse Grind: "It is a little bit challenging in the beginning, especially for those who are not used to physical activities, but once you get to the top you feel really great and you can enjoy a beautiful view of Vancouver!
We hope you have enjoyed our tips and have a great weekend!
Comments
comments