Carlo Schmid considered himself to be a "dreamer" two years ago working an office job in his native Switzerland while concocting loose plans to become the world's youngest pilot to travel the globe in 80 days.
But he felt he had little choice but to pursue those plans following the death of his 45-year-old mother, a victim cancer.
The 22-year-old Swiss pilot — who touched down in Vancouver on Sunday — spent Wednesday describing his journey across the world to students at EC Vancouver language school.
His mother, who he remembers as an incredibly giving woman, inspired him to use the trip to raise money for a UNICEF project funding a girl's education program in India.
With just 43 days left on his journey, Schmid says he's well on his way to reaching his goal of $100,000 thanks to devoted supporters.
A Swiss doctor allowed him to rent a Cessna 210 single-engine aircraft at a special rate, while friends and sponsors have kept fuel in the plane.
The young pilot started in Europe before heading to the Middle East, South Asia, Japan, Russia and then Alaska. He'll resume his trek this Sunday flying over North America and Greenland, and will return to Europe in late September.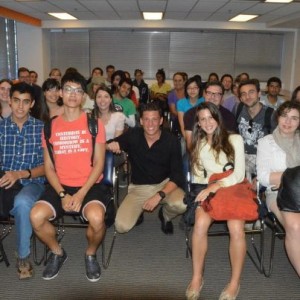 Although the flights keep Schmid sealed in his cockpit three to five hours a day, he doesn't admit to feeling lonely — save for flying over Russia's barren landscapes.
Instead, the pilot said he's been blessed by the opportunity to meet all kinds of people during his travels.
But he recalls touring the slums of India, where people lived in filth and poverty, to be a gut-wrenching experience.
"The situation there is really bad — that's what motivates me to earn more money for UNICEF."
Anyone wishing to donate to Schmid's efforts can find more information at rtw2012.com/en.
Comments
comments