Marina Dietrich, our former Student Ambassador, is back home in Switzerland, but part of her heart is still in Vancouver. She wrote a blog to help you with tips of how to get books, magazines and any other material from Vancouver Public Library:
Do you need more books to study English or want to read a book in English?
Get a member card at the Vancouver Public Library (VPL) and borrow books for FREE!!!
Vancouver's main library is not only a beautiful building from the outside, it is also a great treasure of books!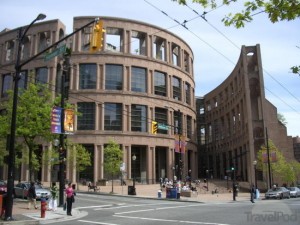 The Library card is free for everyone who lives or owns property in the City of Vancouver. Students have to be in Vancouver for 4     months or longer to be able to get a library card. You can apply at any branch of the Vancouver Public library. You need to have some sort of ID with you when you apply: your passport, driver's licence or a similar document and your current address in Vancouver.
You can use your library card at any branch of the VPL. New library members may borrow a maximum of 10 items at a time during the first 4 months after getting a card. You can borrow a book for a maximum of 21 days.
You are responsible for any material you borrow and for any charges on items that are overdue, lost or damaged. Your library card provides Internet access in the library and personal access to licensed databases from outside the library. Your card cannot be used by another person, group or institution to access licensed databases. These databases (or electronic resources) are restricted by license agreements to Vancouver Public Library card holders. If you lose your library card, report it immediately to any branch of VPL, the library will make a note in the computer so that no one can use it. There is a $2.00 charge to replace a lost card.
Visit www.vpl.ca for more information, locations and hours.
Thanks Marina for sharing this with our students and all the best!
Comments
comments