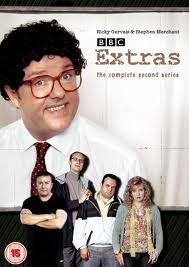 Wednesday afternoon at 3:30 pm, we have another hilarious sitcom to show you! This time is 'Extras': Andy Millman was born to be a star. Unfortunately no-one else seems to have noticed. Even his agent isn't convinced. After ignoring the old cliché 'don't give up the day job', Andy (played by Ricky Gervais) does just that and pursues his dream to become an actor. Andy seems confined to a life of being an 'extra', chasing after that one line in the script like the pot of gold at the end of the rainbow.
We are sure you will laugh together with our teacher Marc, who will be hosting this movie afternoon!
Popcorn comes along with it! Sign up list at reception.
Comments
comments