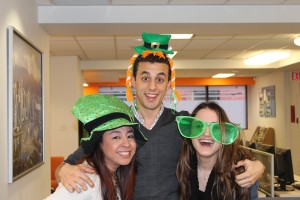 What?
Hats Off Day is when Heights merchants "take their hats off" to their community and their customers, and the entire Heights community celebrates together. It's a huge, one-day extravaganza featuring a colorful main-street style parade with real local flavor, followed by a big street party.
When?
Saturday, June 1, 2013 from 9:30 a.m. to 4 p.m.
Where?
The Heights is located on Hastings Street between Boundary Road and Gamma Avenue in Burnaby. It is situated 15 minutes east of Downtown Vancouver along Hastings Street.
These buses run regularly through the Heights along Hastings Street:
C1 Hastings at Gilmore Street/Kootenay Loop
C2 Capital Hill/Hastings at Gilmore Street
129 Metrotown Station/Edmonds Station
130 Metrotown/Hastings/Kootenay Loop
135 SFU/Hastings Street/Burrard Station (Downtown)
N35 Downtown/SFU Nightbus
For more information, route maps and schedules visit www.translink.bc.ca or call 604-953-3333.
Cost: FREE
http://www.burnabyheights.com/events/hats-off-day/
Comments
comments