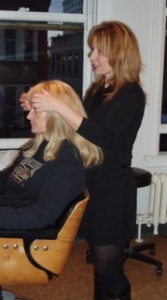 25 years ago with only 3 words of English, I came to Vancouver and EC to study English. WIthin 3 months I made friendships that still to this day are dear to me and was able to communicate well enough to move in my own house. I loved every moment of my time at the College. Every day were new, exciting and challenging. Expressing myself in a new language on the phone or at the dr. or at the hair salon was stressful. My teachers were so kind and understanding, they quickly felt like my friends and gave me so much support.
My name is Veronique and today, I work at ACACIA Hair Boutique in downtown. I was trained as a Hairstylist and a Makeover Specialist. I love co-creating fresh looks for my clients.
I wish you the very best experience in Vancouver and in learning a new culture and its language!
Comments
comments