Students Ambassador: Minseon Kim (Scarlett)
Name:
Scarlett
Tell us something about you:
I'm from Korea and I am 21 years old. When I was in Korea, I was a university student majoring in computer engineering. The reason why I study English in EC Vancouver is because it's for fun.
Why did you choose to be a SA?
I like hanging out with friends. So I wanted to make a lot of friends. Also being a SA helps me improve my English skills.
What is your job as student ambassador?
I usually think about the next activity and discuss with other student ambassadors. When I participate in activities, I will take with new students and let them know about life in Vancouver.
In your opinion, what is the best activity so far? Why?
Absolutely the best activity is going to Lynn Canyon. Over 50 people took part in this activity and in my opinion, it was a successful activity.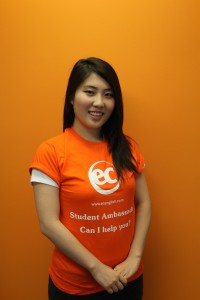 Comments
comments