Here at EC Vancouver are starting a series of 'Did You Know' posts. Here we will post all kinds of generally interesting information about learning English, our staff, Vancouver, and many other topcis. In our first DYK blog post our two interns, Chiara and Pierina, talk about the largely unknown fourth official language of Switzerland.
The 4th official language of Switzerland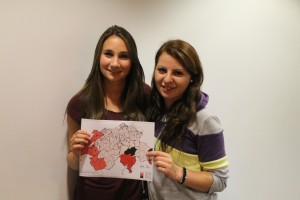 We have 4 languages in Switzerland; German, Italian, French and Romansh. The first three are of course quite popular yet the last is not known very well at all. The language Romansh is similar with Latin languages; it is one of the nine Latin languages. Very few people peak Romansh and because of this the language is slowly dying. Myself and Chiara are 2 of the 10'000 who speak this language. Chiara grew up bilingual as she learned German and Romansh however I grew up with just Romansh, learning German in primary school. We are both glad that we speak this unique language because it is helpful when trying to learn English. We also think it's cool to speak a language few have heard of, and even fewer know how to speak.
If you want to know more about Romansh come and ask us!
Though we can't guarantee it, we are pretty sure we're the only people who speak Romansh and intern at any Vancouver English School!
Comments
comments