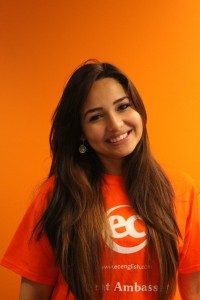 Student Ambassador: Perla Marina Jordán Amador
Name:
Perla
Tell us something about you:
I like to dance and go out with friends, I like listening to music and I really love to meet new people and friends.
Why did you choose to be a SA?
I would like to help any students staying in Canada; I'd like learn and improve my English in EC Vancouver while meeting different people.
What is your job as a student ambassador?
My job is to help any students who have questions. We will organize/ coordinate local excursions and special events for the students. And make sure everyone is speaking English while at school. I'm very glad to have this opportunity and it's making my experience studying English in Vancouver a better one.
In your opinion, what is the best activity so far? Why?
Going to the Rocky  Mountains. It's a beautiful place and you can camp, hike or engage in mountain sports.
Comments
comments