First of all, everyone loves Tim Hortons because it is cheap. They promise the products are always fresh! Did you know that Tim Hortons makes their coffee every 20 minutes? One of our favorites are the bagels with cream cheese, they are just delicious and somewhat healthy. We support Tim Hortons almost every day. If we want to hang out we go to Tim Hortons. If you don`t know what to do in your break time, go and try the different coffee.
Our most favourite product from Tim Hortons are Timbits. Timbits are little doughnut pieces with different flavours, like: Apple Fitter, Dutchie, Honey Dip (our favourite  ), Old Fashion Plain, Sour Cream Glazed and many more. Enjoy this little snack and share it with your friends. Tim Hortons is a real culture icon in Canada. Conveniently there is a Tim Hortons right across from EC Vancouver!
Chiara and Pierina, EC Vancouver interns from Switzerland.
Every cup of Tim's is a work of art!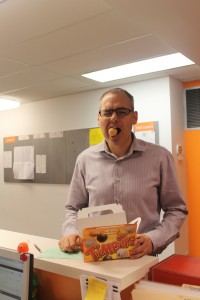 Comments
comments