Meet our new student ambassador Isabella Giampaolo!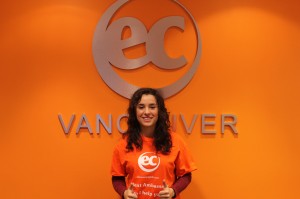 Hi! My name is Isabella, I'm twenty years old and I come from the Italian part of Switzerland.
I've been here in Vancouver for two months, and I still have four more months here at EC Vancouver.
I decided to become a student ambassador because I would like to share my experiences with all the other students, especially the new ones. This is because I firmly believe that I can be really helpful to find a reference point inside the school; someone who's able to suggests you something, or give you a tip.
We are all in the same situation and we should support each other.
I'll be happy to help anyone in need!
Enjoy time here at EC Vancouver English School!
See you around
Isabella
Comments
comments