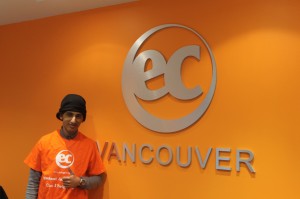 What is your name?
– My name is Osama Bawazir.
Tell us something about you.
– I am a friendly and social person. I like to make a lot of friends.
Why you choose to be a Student ambassador?
– First, it's a good opportunity to improve my English skills. Second, I'd like to make new friends from different countries. Finally, I love to do anything that helps EC Vancouver School.
What is your job as student ambassador?
– I come every Monday morning at 8:45 to introduce myself and do the orientation for new students.
– I come every Friday at 12:40 to front desk to take pictures with students who are graduating from EC School. I will promise I'll do my best for this group.
In your opinion, what is the best activity at EC Vancouver? Why?
– I think EC School has many good activities such as Movie Monday and building a ginger bread house at Christmas. Unfortunately the EC School doesn't have a soccer team, I hope they can have one in the future, because they have  good players! I can guarantee, if we do this activity, it will be one of the best activities in EC School's history and I mean that!
=====
EC offers various English Language Courses, including TOEIC in Vancouver.
Comments
comments