Yuka Oura (General English – High-Intermediate) shares her EC Vancouver experience.
Hello everyone! Today, I'd like to talk about how wonderful my life in Vancouver is. My name is Yuka. I'm from Okinawa, Japan. I have been in EC Vancouver for nearly a month. (I wish I could stay here longer, though…) I love Vancouver! One of the reason why I came to Vancouver is that before I came here, all of my friends who had been in Vancouver told me that Vancouver is amazing in terms of lots of different kind of things such as nature, people, and cities. All of them told me the same. After I heard their stories, I always wanted to go to Vancouver and I made a decision to go to Vancouver right away.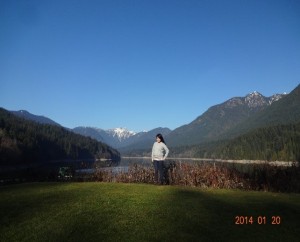 My decision was undoubtedly right. EC Vancouver, our school, is the best school to learn English. I'm currently taking a General English class in the morning, and am also taking an elective class in the afternoon. You are able to get a lot of chances to speak, write, read, and listen, which is fantastic. Also, my classmates are incredibly amazing. They study hard, are friendly, and are enthusiastic. They make me pretty highly motivated. I feel very comfortable taking classes with them. Most importantly, my teachers are awesome. They not only have great teaching skills, but also are always caring about us and encourage us. They are always there to help you. All of the teachers who I have learned from were amazing.
Another thing that I'd like to tell you about is that the place that I've visited so far with my friends. As there is lots of nature in Vancouver, I've been enjoying the nature; I went to Stanley park, Grouse mountain, some forests, Capilano suspension bridge, beaches, Gastown, Metrotown, and Canada place. I wish I could stay here more…
I have no words to describe how happy I was by seeing these beautiful views. The nature of Vancouver is incredibly wonderful. I've never seen so much nature in my life.
One thing that I enjoyed was going to the pub night with my friends. EC Vancouver has awesome school activities which everyone should join at least one time because it is an opportunity to meet people from your school. Meeting new people is lots of fun. Enjoy your time there. What you have to do is just talk to them. Talk about yourself, your country, and your interests.
The last thing that I'd like to tell you about is my homestay family. EC Vancouver provided me with a homestay. I'm very happy to share some time with my homestay family. Vancouverites are incredibly nice. We live in North Vancouver. The week before last, I went for a walk in a forest with my homestay family. It was a sunny and pretty nice day. Last weekend, we went to the suspension bridge. I enjoyed a lot. The bridge was very organized and very safe.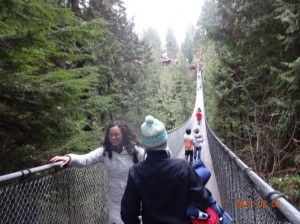 In the end, EC Vancouver has very experienced teachers and wonderful staff. As I mentioned before, they are so helpful, friendly, and enthusiastic. They are willing to help you 24/7. My English skills have definitely improved. Thank you for giving me such an amazing time, EC Vancouver!
Comments
comments