Are you interested in taking English private lessons in Vancouver? EC Vancouver offers private lessons in English!
EC Vancouver's One-to-One lessons will definitely benefit a student if a student wants to improve his/her English level significantly in a short time.
These are customized lessons designed by your teachers and focus on your English needs. In other words, these lessons target students' strengths and weaknesses, as well as provide an opportunity for intensive practice. Also, through these lessons you will receive your teachers undivided attention, guidance, and feedback.
The below is the timetable for One-to-One English lessons.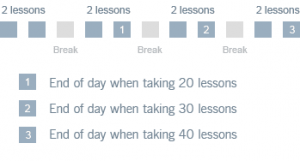 Please speak to the EC Vancouver staff at the front desk if you want to know more about the One-to-One lessons!
Comments
comments