EC Vancouver students!!! It's already Friday! Studying English is very important BUT having a good time with friends while you stay in Vancouver is also very important.
As the nights get longer and temperatures get warmer, one of the best places to spend the evenings in Vancouver is on a summer night market where amazing deep fried food, cheap socks, and lots of other surprises are waiting for you. It's pretty hard to tell the difference between the two Richmond night markets, but this one tends to be more well-known because of his huge space, great food booths, and… well… the giant duck.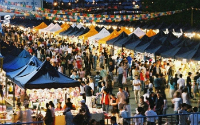 The Richmond Night Market first opened in 2000, eventually moving to the night market location on Vulcan Way. But in 2007, the Richmond Night Market lost his lease and went on a four-year hiatus (the Summer Night Market took over its location as a replacement in 2008). Returning in 2012 at a new location near River Rock Casino, making it easy to reach by Canada Line. The re-opened Richmond Night Market has 80+ food vendors, 250+ retailers, live entertainment, and carnival rides.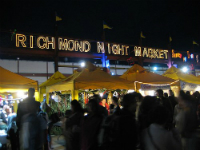 What to expect…
At the International Summer Night Market, vendors are split into two "sides:" a food vendor "side" and a discount-retailer "side." Visitors usually start on the food side, where food stalls are lined up in rows; after dinner, crowds browse the retail stalls on the other "side" of the market, which include discount goods like cheap sunglasses, fashion, jewelry, electronics, and Chinese-language DVDs. Special multicultural event nights are scheduled throughout the season.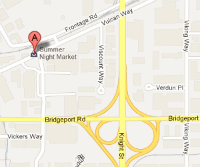 EC Vancouver Students, here is more information about it:
Richmond Night Market
Where: 8351 River Rd, Richmond BC
When: May 16 – October 13, 2014
Open hours: Friday & Saturday 7pm – 12am; Sunday & Holidays 6pm – 11pm
$2 admission; free for kids under 10 and seniors
=====
General English courses including Academic Year Programme in Vancouver for long-term students.
Comments
comments