Youngju Kim(Victoria) who is taking EC Vancouver's General English course (high-intermediate) joined EC Vancouver's Student Ambassador!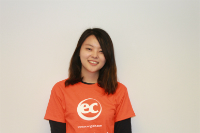 What is your name?
– My name is Youngju Kim (Victoria).
Tell us something about you.
– I came to Vancouver (also EC Vancouver) three months ago. I have had a good time in Vancouver. I love it!
Why you choose to be a Student ambassador?
– I talked to a staff in EC about how to improve my English skills and she introduced an opportunity to become a student ambassador. I think it's really helpful because i have a lot of chances to speak in English.
What is your job as student ambassador?
– I have to help students who don't know about EC (especially new students) and need to think about good activities for EC Vancouver students.
In your opinion, what is the best activity at EC Vancouver?  Why?
– I think becoming a student ambassador is the best activity in EC. Compared with other schools, only EC Vancouver has this unique opportunity! I have been having a lot of special experiences since I became the student ambassador. I want to enjoy more!!
=====
EC offers various English Courses, including Academic Year Programme for long-term students.
Comments
comments