YoungJu Kim(Victoria) from Korea shares her experience while taking the General English Course (High-Intermediate) in Vancouver.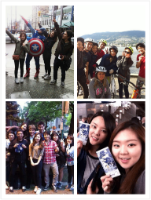 My purpose for coming to Vancouver was to learn how to speak English. If I want to enter a good university or get a good job, it is necessary to study hard English. However, education in Korea only focuses on exam skills like grammar, reading, and writing – except speaking. That's why I decided to come to Vancouver. I got the possibility to improve my English skills for 3 months. But not only English is a part of my daily life.Everyday I am having a lot of memorable experiences in Vancouver!


Firstly, I can relax and calm down here. When I was in Korea, I always had to do something as a university student. Usually did I something very quick without enough composure. However, they have beautiful nature and friendly people in Vancouver. It makes me having composures and dingo something slowly and peacefully.
Secondly, I can make a lot of friends who are from other countries. I think it's a big advantage of EC. Compare with the other language schools, we have various nationalities. I can learn a lot about other cultures during hanging out with my friends. It let me know how to understand other cultures. And I believe it's helpful to broaden my sight.
To finish, we have a good systems at EC. EC managers and ambassadors always tries to make interesting activities for EC students. For example, we have an activity, "explore in Vancouver". This activity can introduce good places in Vancouver to EC students. It's a good chance to know where we could go and hang out with new friends.
When I was in Korea, I couldn't imagine having such great experiences in Vancouver. I am very excited to spend a great time here in Vancouver!
=====
General English courses including Academic Year Programme in Vancouver for long-term students.
Comments
comments