Located in North Vancouver, only 13km away from Vancouver, Deep Cove is a peaceful residential neighbourhood. No need to have a car to get there, from Downtown it takes less than 1 hour with public transport to reach this popular summer resort.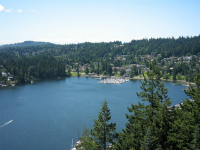 Deep Cove is well known for its huge range of outdoors activities: if you love water activities you can enjoy kayaking, canoeing, waterskiing or also paddling and have the opportunity to view the mountains and wildlife from sea level. For mountain lovers, the Baden Powell trail is a nice, easy hike which will bring you to a very nice point where you could relax, have picnic and enjoy the peaceful and quiet area. If you have more time and motivation, Deep Cove is also a starting point to head up to Seymour Mountain, hiking in summer or skiing in winter.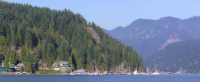 If you plan to go to Deep Cove, you have probably heard about the famous "Honey Doughnuts & Goodies" shop. No visit in Deep Cove should be done without a stop in this bakery: we advise you to try the delicious honey doughnuts but be patient, you will probably have to line up for a bit.
As the good weather is back this weekend, EC Vancouver is organizing a visit to Deep Cove. This Friday (May 30th), 40 of EC Vancouver students are heading to "The Cove", as it is called by local residents, to enjoy the sun and a picnic all together facing the Indian Arm, a steep sided glacial fjord.
Enjoy your time there, and I bet this won`t be your only trip to Deep Cove!!!
=====
EC offers various English Courses, including Academic Year Programme for long-term students.
Comments
comments