Minkyung Kim:who is taking EC Vancouver's General English course (Upper-intermediate) joined EC Vancouver's Student Ambassador!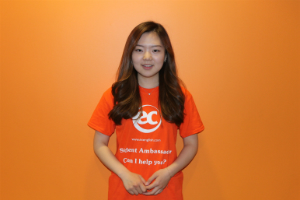 1) Tell us something about you …
I came here three months ago from Korea. I'm a university student, and my major is economics.
I live in China for ten years so I can speak Chinese.
2) Why you choose to be a Student Ambassador …
I think it can be a good chance to meet many friends and improve my English. And I like to do these kinds of  job.
3) What is your job as a Student Ambassador?
– Helping EC students
– Preparing activities for EC students
– Helping graduation ceremony
4) In your opinion, what is the best activity at EC Vancouver ? Why ?
I like the Volleyball activity that we do at English bay and Tennis club because students can be closer by playing sport games. But I think we need more activities in EC.
=====
 Learn English in Canada (Vancouver)! EC offers various English Courses, including General Course(s) in Vancouver.
Comments
comments