Camila Lopes Ferreira who is taking EC Vancouver's General English course (High-intermediate) joined EC Vancouver's Student Ambassador!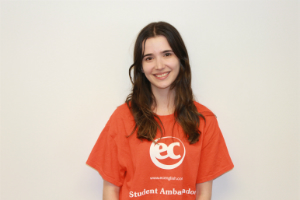 1) Tell us something about you
I am friendly, I like to have fun and my true passion is helping others. I am adventurous, I love travelling around the world, discovering other cultures and learning new languages.
2) Why you choose to be a Student Ambassador?
I like to promote parties, communicate with other students, cultures and meet new people.
3) What is your job as a Student Ambassador?
Promoting events and outside activities for the students. Helping the students that are new in school.
4) In your opinion, what is the best activity at EC Vancouver ? Why ?
I enjoy talking to people from other countries, discovering different cultures; so the best activities for me, besides classes, are the outside ones, like volleyball. I also enjoy movie nights and all this kind of stuff.
=====
 Learn English in Canada! EC offers various English Courses, including General English Course(s) in Vancouver.
Comments
comments