Minji Cha from Korea shares her experience while attending the CAE Cambridge course. (Sep 3, 2013 – Jan 17, 2014)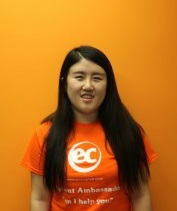 My whole stay in Vancouver can't be explained without EC Vancouver. CAE course for 12 weeks was challenging but absolutely helpful. Besides, I was also a student ambassador, and I had so many memorable experiences including organizing and enjoying the activities. Among many advantages, the best thing was that I've met many friends from all over the world and had a chance to meet a new friend every single day. I wish I could have more time to stay here.
"English only" policy is getting better since SAs and staff are encouraging students to speak English and actually many students are motivated to use it to improve their English.
Comments
comments