Minseon Kim and Deokhyeong Lee from Korea shares their experience while attending the General English Course in Vancouver.
Minseon Kim, High-intermediate (Jul 15, 2013 – Jan 3, 2014)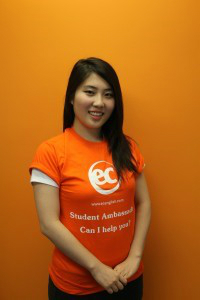 I like organized ESL classes. First of all, ESL classes gave me the good motivation to go on and try to level up. Especially, I have taken a part in lots of activities as an ambassador student. Not only I learned English academically, but I also could have experience something about North American culture.
English-only policy is useful to practice speaking English. I think EC is the best English School that I've ever known.
Deokhyeong Lee, Low-intermediate (Jul 22, 2013 – Jan 3, 2014)
I think EC has a good teaching style and AY tutors. AY tutor was good for students because they could check students learning style, and also give student advice. Moreover, my AY teacher Aaron was a very kind person, and I really wanted to say thank you. In my opinion, Desil and Laura were good teachers too, because they were always kind and fun.
=====
EC offers various English Courses, including English private lessons in Vancouver.
Comments
comments