Melisa Carolina Castillo Pastore from Venezuela shares her experience while attending the General English courses at EC Vancouver (High-Intermediate 2).
I can describe my experience in Vancouver as one of the best in my life and also EC has been a part of it.
I think it is not just about learning English more than that. For me,traveling abroad and learning other cultures are really important, because I can open my mind to a new world.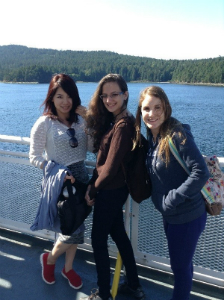 I decided to come to Vancouver, considering it is a multicultural city. And definitely studying in EC was the best option because all the people who work there focus on helping us in our learning and they work to give us an amazing experience by taking us to different places and doing all kind of activities.
For example last weekend, I went to The Royal Roads University in Victoria. It was a tour organized by the school. It was a great opportunity for us to know the University and also we had such a great time.
I must not forget to say that every time when I asked people for help, everybody did it in the best way. That is what I really appreciate about the people from EC School.
That is why I want to say thanks to EC and people for opening their doors to me and gave such a marvelous experience!!!
I am going to miss my School…
Melisa Castillo
=====
Would you like to learn to speak English in Vancouver like Melisa? Check out EC Vancouver's programs!
Comments
comments