Remembrance Day (November 11th), which is also known as Poppy Day and Armistice Day, is a memorial day to mourn the members of armed forces who have died in the line of duty during the World War I.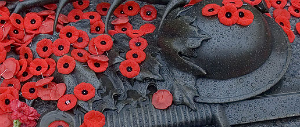 They fought for Canada regardless of their races and social classes, Fathers, sons, daughters, sweethearts. They were killed and injured, and thousands who came back from the war were forced to live the rest of their lives with the physical and mental scars from it.
Remembrance Day is observed on 11 November to recall the end of hostilities of World War I on that date in 1918. Usually we wear a red poppy on this day because they grow in the wild place in many fields in northern France and Belgium where the war was held and a lot of soldiers died. The poppy can survive everywhere but also delicate, so it reminds us that we have unforgettable memory in human history.
EC Vancouver has an activity which one teacher explains history of World War I in detailed.
Visit link for more information. http://www.veterans.gc.ca/eng/remembrance/history/a-day-of-remembrance/why
=======
Planning to study English in Canada? Take EC's Intensive English program in Vancouver!
Comments
comments