Hyein Kim (Hailey), one of our student ambassadors from Korea, was hosting the Golden Bell quiz game show last week and share her experience.
"Golden Bell" is a famous Korean quiz show. At first, when the ambassadors discussed the next activities, Edward said to us; "Let's play Golden Bell". In my case, I knew about the game but the other ambassadors had no idea. So Edward was trying to explain the game, but it wasn't easy. I first thought it's impossible, because the game is only famous in Korea. However, all the ambassadors were trying to understand the game. Two weeks later, everything became real when we remade the rules and prepared the questions. The most interesting thing was when we made the questions about our own country. When I checked our ambassadors Facebook page, there were many kind of questions about their countries posted. Also, I could learn something new by reading the questions.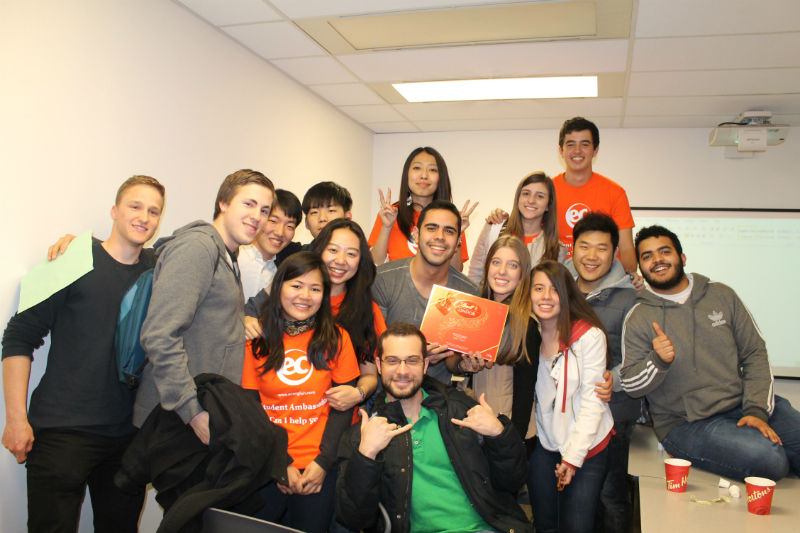 Finally when the day of the game came, a miracle happened. Only four students signed up for the Golden Bell game, so every student ambassador tried to bring two friends. When we finally went to the room, there were so many students. Some students even had to look from outside the classroom. During the game, people argued with each other and it was very hot inside. After all, it was a quite good competition between the four teams. Even though, three teams lost and only one won, everyone enjoyed the game and learned something new about other countries and that is what mattered. What a wonderful situation! So I also learned not to be afraid of challenging something. We can do whatever we want. This was the best time during my time as an ambassador so far.
-Hailey
======
Do you want to study English in Canada? EC offers various English Courses, including IELTS in Canada.
Comments
comments