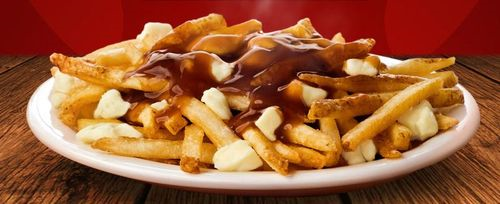 Find the easiest Poutine recipe here!
Poutine is the typical Canadian dish, since Canada is home of large populations of foreign people, its typical dishes are more a mix of dishes from another countries. Here you can learn how to prepare Poutine. This recipe is very easy and will not take you long. Try it, it is just a few steps!
Cook: 20 min
Ingredients:
1 Quart of vegetable oil
1 Can of beef gravy (around 10 ounce)
5 Medium potatoes
2 Cups of cheese curds
Directions:
1. Heat oil in a deep fryer.
2. Warm gravy, you can either use a saucepan or microwave.
3. Place the fries into the hot oil until light brown, about 5-7 minutes. And remove them to wrap in a paper towel to drain.
4. Place the fries on a serving plate and sprinkle the cheese over them. Then ladle the gravy sauce over the fries and cheese. It is ready to serve!
Enjoy!

===
Do you want to learn English in Canada? Check our classes in Vancouver!
Comments
comments