Deep Cove is the best place where you can eat a delicious doughnut & have a lot of fun!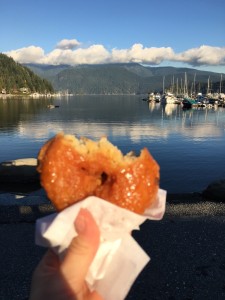 Many of our students recommend Deep Cove. Deep Cove is a neighborhood of North Vancouver located at the foot of Mount Seymour. You can find a beautiful landscape there fully covered by nature, water, lovely streets with restaurants, bars and coffee shops. You can also rent a mountain bike or a canoe or enjoy the beautiful hikes. Or you can just walk until the chief to appreciate the breathtaking views.
After doing sports you can reward yourself with a famous honey Doughnut in the café "Honey Doughnuts".
Deep Cove is easily accessible from Downtown Vancouver via 211 bus. The bus takes  approximately 50 minutes to this great spot!
Enjoy your time there!
===
Thinking about taking IELTS? Check our IELTS classes in Vancouver!
Comments
comments