At EC Vancouver we believe you have the right to choose the timetable that best works for you. So we came up with this new flexible schedule designed to make your life easier.
Instead of changing weekly, the new timetable will be changing daily so you can go to the gym, take some French classes or go for dinner with your friends in the afternoon, while enjoying a good hike, snowboarding or going swimming during the mornings. You can be as flexible as you like.
This mean that you will switch morning and afternoon classes every day, but this is not all! We give you the option of taking a nice, long break for lunch if you want between your core program and your elective class, or just a short 5 minutes one if you want to leave early. And do not forget the free classes! You can choose between two times every day! or…you can join both!
This timetable looks like this: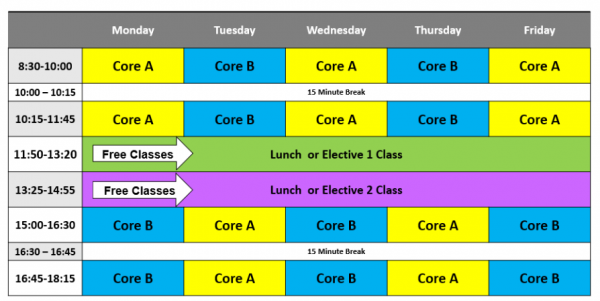 Please come to talk to us if you need more information about it.
===
Interested in coming to study English in Canada? Have a look at our programs in EC Vancouver.
Comments
comments