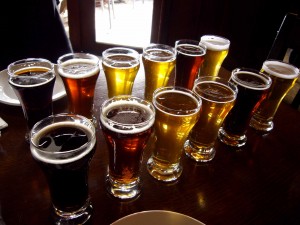 If you like to drink beer, you're really going to enjoy this week. Until June 5th, we're having the Vancouver Craft Beer Week Festival. It is a week filled with the three most wonderful things in the world: music, food and beer.
This year, the Vancouver Craft Beer Week Festival will be showcasing over 100 breweries and cideries. You'll be able to choose from over 350 craft beers and ciders from all around the world. Even the U.S. Brewers Association will be present, to showcase beers that have never been served in Canada before.
All of this will be accompanied by 3 days of musical performances. There will be over 12 bands on the CFOX Main Stage. Mark Woodyard & Friend swill be playing on the Bullfrog Power Stage in the Secret Garden, and the Lamplighter Stage will feature live music and DJ's from the Donnelly Taverns.
If you want to learn more, please check out the official Vancouver Craft Beer Week Festival website!
======
Do you want to learn English in Canada? EC offers English courses in Vancouver!
Comments
comments