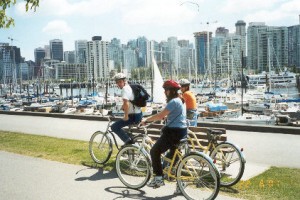 If you need a great excuse to exercise, we're here to give you one! You can join Vancouverites in one of their favorite hobbies, cycling! Last week (May 30 to June 5) BC had its Bike to Work Week. Over 30,000 riders participated and rode for a total of over 1 million kilometers, burning over 36 million calories in the process.
Bike week is over, but by no means does that mean that we can't still get outside and do some cycling. The weather is really heating up lately, so it's the perfect time to rent a bike! It's super easy, and just in case you get tired during the ride, most of the buses in Vancouver are equipped with bike racks.
The Seawall in Vancouver is a very popular place to do some cycling. It takes less than two hours to make the loop, there are no steep heels and throughout the ride you can enjoy spectacular views of the mountains and ocean.
======
Do you want to learn English in Canada? EC offers English courses in Vancouver!
Comments
comments