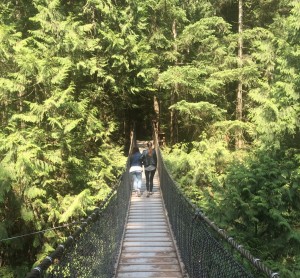 Nina is once of our Cambridge students here at EC. In addition to preparing for this difficult exam, she had memorable experiences with her homestay family and her friends. Here is a firsthand account of Nina's EC Experience:
Homestay
"There is not a single thing I could criticize. They treat me as a family member and I even met the parents and siblings of my host mother and father. The two children are really well-behaved and I always had a great time with them.
On several occasions they asked me to join them. We went out for Sushi, we visited the Rodeo festival (which was amazing), and we drove to my host mom's mother's place and stayed there the whole evening. Once I joined them to go to a zoo and I even got to see and hold the newborn child of my host mom's brother. I had a wonderful time, and these people definitely mean a lot to me now. I am sure that saying goodbye to them will be really hard, but I am happy for the new student who will have the opportunity to meet this family."
Activities
"I once joined the EC running club, I went hiking at Dog Mountain and on my first day I had dinner at the spaghetti factory. All these activities were great and we had a lot of fun. With my friends we discovered the most beautiful places of Vancouver. Among my favourites are Lighthouse Park, the Richmond night market, Grouse Mountain and the Lynn Canyon Suspension Bridge. When it was raining, we went shopping at Metro Town or visited different coffee shops. Tuesdays were always our Cambie nights and I have to admit that this is why Tuesday was always my favourite day of the week. "
======
Do you want to learn English in Canada? EC offers English courses in Vancouver!
Comments
comments