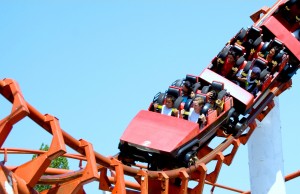 Get ready for an adrenaline rush! Playland is open for the season!
Vancouver's amusement park at the Pacific National Exhibition is open until September 18th. At the PNE, you to experience many thrilling rides such as Canada's most extreme pendulum ride, The Beast. This new attraction is a unique ride where you will be swung at 125 feet from the ground and at 90 km/h while spinning 360 degrees.
Playland offers 30 rides and attractions, such as a wooden rollercoaster, arcade games, and food. Located in Hastings Park, it is just a short bus ride from Downtown. Ticket prices range from $32.50 for the one day pass to $99.50 for the season pass. You'll need to wear appropriate footwear, so leave your flip-flops and slip-ons at home if you want to ride The Beast. If you want to learn more about Playland the PNE, you can visit their website.
======
Do you want to learn English in Canada? EC offers English courses in Vancouver!
Comments
comments