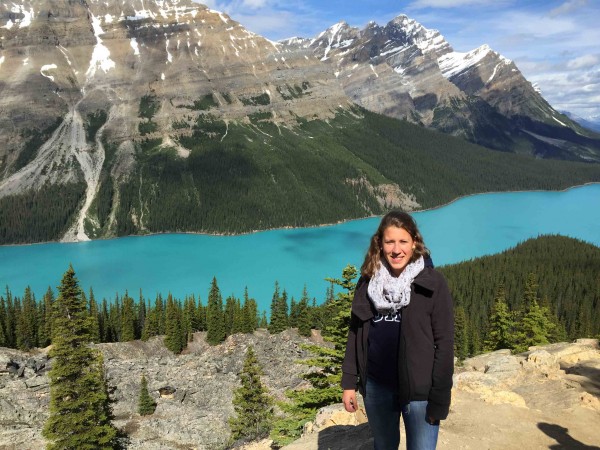 Alessandra is a Swiss student who graduated from EC this year. This is her story:
Trips and Activities Enjoyed in Canada
We went from Calgary to Vancouver in 9 days. One of my best friends and I traveled through the Rocky Mountains over one week and it was one of the best experience I've ever had. Two close friends, a car and nothing more than nature and a road. We went from Calgary, to the beautiful Banff, over to Lake Louise. We made a small stop at Peyto Lake to Golden, went further to Revelstoke, and then on to Kamloops. Last but not least, we went to Whistler and then back to Vancouver.
The whole trip showed me how great nature can be. This earth is so diverse. We were surrounded by snow, broad-leaf and fir forest, desert, mountain, bears, moos and deer. I also learned how peaceful the nature is. I finally felt free and calm – away from stress and daily routines.
We spent our nights in hostels and Airbnb with the most warmhearted, generous and welcoming people I've ever met. It was a great trip and I really, really miss Canada. I'll come back, someday
Advice for Swiss students
Try to see as much as possible. That doesn't mean spend a lot of money and travel far away. Enjoy the nature, enjoy yourself and use your time to the fullest. Canada is a beautiful country, which offers you many activities. You can hike in Lynn Valley, do the Grouse grind, visit Fort Langley, bathe under a waterfall or visit Vancouver island to do some Whale watching or the best activity there – SURFING! Be yourself and take every moment how it comes.
======
Do you want to learn English in Canada? EC offers English courses in Vancouver!
Comments
comments