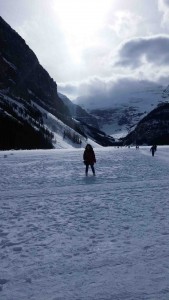 Mayara is a Brazilian student who graduated from EC this year. Here is her story:
Trips and Activities Enjoyed in Canada
In Vancouver there are a lot of activities to do in nature, and I probably did them all. The first one was a trip to Grouse Mountain. When I went there, it was still cold, so there was a lot of snow, which was very funny because it was my first time seeing snow. I really looked like a child! The second trip was the best. I went to the Rockies with a friend from Brazil. we were there on Easter weekend, so a lot of people went as well – about 6 buses!! I was awesome, all frozen and cold, I made many new friends. I saw new places and new things. I really enjoyed that trip!
For the final i guess was my last trip in my last weekend in Vancouver, i went to Whistler by car with my friends, we rent two of them and we stopped in Squamish to see the waterfall was really nice, and them at the night we stayed in the beach listening music, was perfect!
Advice for Brazilian students
The first and in my opinion the most important is bring your umbrella, you never now when will rain in Vancouver!! Do a lot pf friends and meet the city, enjoy your time there as much as you can!
Comments
comments