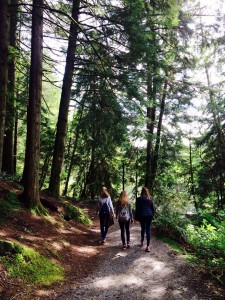 Ann-Kathrin is a Swiss student who graduated from EC this year. Here is her story:
Trips and Activities Enjoyed in Canada
The hike from From Lynn Canyon to Deep Cove. was one of the best hikes that I did during my stay in Vancouver! It starts at Lynn Canyon, to which you can get easily by taking the bus or sea bus from downtown.
The great thing about Vancouver is that it's surrounded by nature and a stunning landscape. That's why North Vancouver is perfect for one day tours on the weekend.
Back to Lynn Canyon – The first attraction to see at this beautiful hike is the Lynn Canyon suspension bridge (which is for free and not so crowded!!).
Then, you "just" have to follow the little signs of the Baden Powell trail…But be attentive, it's still possible to get lost.
The 12 km long route is surrounded by clear rivers and woods.
As you need at least a half day to do this hike, it's perfect for spending some time with new friends and talking. Even if sometimes the way is really steep, all in all it's not too hard. However, I recommend wearing good shoes!
The reward for the long hike is the breathtaking view over the beautiful Deep Cove at the Quarry Rock.
Whereas almost the whole hike is calm and not really known by tourists (we only met locals) the Quarry Rock is a very crowded tourist attraction. Back in the valley at Deep Cove, you can just relax, eat some ice cream and take the bus back to downtown.
This hike was one of my favorite experiences in Vancouver and I recommend that everyone do it!!:)
Just take enough water, food and friends with you and enjoy lovely Canada.
Comments
comments