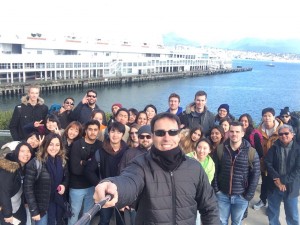 Vanessa is a Brazilian student who graduated from EC this year. Here is her story:
Friends Made in Canada
My stay in Vancouver was my third time studying abroad. In each of those experiences, I discovered that the best thing is meeting people and making friends. My closest friends in Vancouver were the people I met during my first day at school. Of course, we meet lots of new people every day. We make friends in class, at parties, at home… everywhere! But for me, the experience of a first day in a city where you don't know anyone, and the opportunity to get to know people in the same situation and with the same goals, from all around the world, is what brings people together. I made lots of friends from Italy, Iran, Switzerland, France, Brazil, Japan, Germany, Mexico and many other places. We were together every day for one month and I still talk to them regularly. It really was a great experience.
Advice for Brazilian Students
Just be open to getting to know people from everywhere, with different cultures, social status and experiences. You have the opportunity to have the time of your lives.
Comments
comments