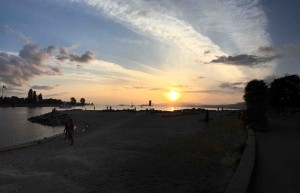 Isabelle is a Brazilian student who graduated from EC this year. Here is her story:
Friends Made in Canada
When I arrived in Vancouver I was very nervous at first, because I didn't know if I would make friends! So, on my first day of school I made a friend, both of us were feeling the same way, but when we found each other, we felt more confident and happy!! After that, we made a lot of friends, we had a group that we ALWAYS met with to go out, go shopping or just to stay together! My friends were my like my family in Canada. I will keep them in my heart with me forever. We had already planned to meet in Brazil!. They were, and still are, my second family, they made me feel loved, as if I were at home and now I miss them!
Advice for Brazilian students
They don't need to worry. They will probably meet a lot of awesome people, I'm sure! They need to enjoy their friend, the place, and the lifestyle as much as they can, because when they come back to their routine, we will miss everyone and everything. I swear that you will not regret of going to this place.  was the best experience of my life!
Comments
comments